Honshu, Japan – Where Past And Future Meet
When you think about the country of Japan, what do you picture? A futuristic city full of robots, anime culture and the hippest restaurants? Or perhaps you are picturing pristine historic Buddhist temples, cherry blossoms and the sun rising over Mt. Fuji. Honshu, Japan's largest, and most populated, island is home to all of the above – and so much more.
Honshu is located between the Sea of Japan and the Northern Pacific Ocean. Honshu is not only home to Tokyo, the world's largest city, it is also the 7th largest island in the world. The island of Honshu is considered the historical and cultural heart of Japan. Ancient former capitals of Kyoto and Nara stand alongside Tokyo, the modern day home of Japan's Imperial family and the center of government.
The island is composed of 34 different prefectures and is famed for its diverse natural beauty. With temperate climates, lush plant life and miles of beach coastline, the island of Honshu truly has something for everyone.

Honshu is the home of Japan's most revered mountain, Mt. Fuji, which is located within a few hours shinkansen (bullet train ride) from the Tokyo Metropolitan area. Climbing Mt. Fuji to see the sun rise is an unforgettable experience for any adventurer. The hike up takes around eight hours and, while difficult, does not require any specialized hiking or climbing experience. But Mt. Fuji is not the only attraction in this area, which is known as the Fuji Five Lakes, is full of breathtaking scenery, small traditional inns and outdoor activities. Adventurous travelers will be excited to hear about Fuji-Q Amusement Park. This park is famous for its not-for-the-faint-of-heart selection of extreme thrill rides and coasters.
Travel a bit further east from Mt. Fuji (also known as Fujisan) and you will run right into the greater Tokyo Metropolitan area. The largest city in the world, Tokyo is a sprawling metropolis where things seem to move at hyper speed. It's a city of contrasts, made up of a collection of 23 "special wards" each of which is then subdivided even further into different neighborhoods.
Neighborhoods are the center of life in Tokyo and each has its own unique flavor. Yanaka, Asakusa and Kawagoe are among the oldest of the Tokyo neighborhoods where you can still see Edo style buildings, theaters, shops and antique stores. If you want a little taste of what feudal Tokyo was like, these are the places to check out. You may also enjoy partaking in one of the traditional public baths that can be found in neighborhoods both old and new throughout the city. Or take a tour of one of Tokyo's world-famous museums. The Edo Museum is full of immersive English language exhibits on the culture, history and peoples of Japan.

The history of Tokyo can be seen on its streets, in traditional architecture and in the ubiquitous presence of Shinto shrines and Buddhist temples. You can scarcely walk more than a block in any populated area of Japan without running into one or the other and Tokyo is no different.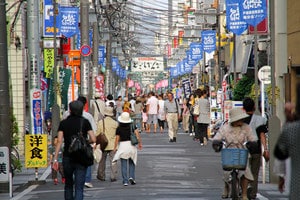 But Tokyo is definitely not a city that is stuck in its past. It has earned its reputation as a high-tech wonderland and center of innovation for fashion, technology and manufacturing. The Ginza shopping district is an upscale stretch of shopping and Michelin star rated restaurants. Here you will find the very best of everything – from sushi to sunglasses. If cute is more your style, then you can go anime and kawaii-crazy in Japan's youth-crazy "kawaii neighborhood" of Harajuku. Here stuffed animals, cute cosplay dresses and manga books will view for your attention. With so many shopping and dining options, you will be lucky if you have a single yen left after exploring these two neighborhoods. And that is just the tip of the iceberg!
Of course, Tokyo is not the island of Honshu's only city of note. Kyoto, which has long been considered Japan's most tradition-heavy city, is located just a few hour's train ride from the Tokyo metro area. Walking down the streets of Kyoto, one might feel that she's been transported back in time. As a former capital of Japan, and one of the few Japanese cities that was not heavily bombed during World War II, Kyoto is home to numerous historic sites, castles, temples and buildings.
You can take a rickshaw ride around Kyoto's riverfront area, you will see parades of women in traditional yukatas (simple summer kimono) being pulled around by rickshaw drivers. There are numerous free or very inexpensive entertainment options for young and old alike, from shopping for traditional Japanese goods to checking out a samurai movie studio, touring a bamboo forest and visiting free-ranging monkeys at Sara Monkey Park. Kyoto is also home to Gion, the famed "geisha district" where – if you are very lucky – you might just catch a glimpse of a geisha on her way to an early evening engagement.
But Kyoto is just one of many very different cities on the island of Honshu. Hiroshima, site of Peace Park, a memorial to those lost in war. Hiroshima Castle was rebuilt after World War 2 and remains one of the country's most beautiful examples of traditional feudal castles and is open daily for public tours. To experience a modern, hipper version of the Japanese city, you will want to check out Osaka, which is known for its more laid back vibe and friendly nightlife.
You might be surprised at how easy, and relatively inexpensive, it is to travel throughout the island. In the metropolitan areas. subway and bus systems are fast and efficient and for longer trips, the bullet train can get you where you are going in much less time than it would take to drive. Taking the shinkansen from Tokyo down through Osaka, Kyoto and on to Hiroshima is an adventure in itself. On a clear day, you may even get a good (albeit quick) glimpse of Mt. Fuji through your train window. Domestic flights are another option for intra-island travel and several airlines operate regular flights to and from Honshu's major destinations.
Whatever your interests – nightlife, Japanese culture, outdoor adventure, shopping and dining, art or history – the island of Honshu is truly a dream destination.
The regions and its prefectures are:
Tōhoku region consists of six prefectures:
Akita Prefecture
Aomori Prefecture
Fukushima Prefecture
Iwate Prefecture
Miyagi Prefecture
Yamagata Prefecture
Kantō region consists of seven prefectures:

Chiba Prefecture
Gunma Prefecture
Ibaraki Prefecture
Kanagawa Prefecture
Saitama Prefecture
Tochigi Prefecture
Tokyo
Chūbu region consists of nine prefectures:
Aichi Prefecture
Fukui Prefecture
Gifu Prefecture
Ishikawa Prefecture
Nagano Prefecture
Niigata Prefecture
Shizuoka Prefecture
Toyama Prefecture
Yamanashi Prefecture
Kansai region consists of seven prefectures:
Hyōgo Prefecture
Kyoto Prefecture
Mie Prefecture
Nara Prefecture
Osaka Prefecture
Shiga Prefecture
Wakayama Prefecture
Chūgoku region consists of five prefectures:
Hiroshima Prefecture
Okayama Prefecture
Shimane Prefecture
Tottori Prefecture
Yamaguchi Prefecture