Kancho, The Game/Prank For All Perverts of Japan!
So of course as things go with studying Japanese culture every day, I still get surprised and have to just go… WTF JAPAN? Because honestly being from the west this little game/joke/prank called kancho is for me a big WTF. So what is this naughty game called called kancho all about? Well simply put it's when someone sneaks up on you and jams their fingers into your butthole.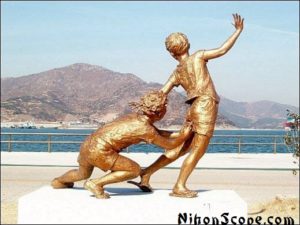 No, I'm not kidding. The game kancho which is usually played by small children under the age six is something that literally involves your fingers and a butt. But just because it's mostly played by children, doesn't mean that they're just doing it to each other… Oh no, in fact, if you're a teacher, parents, older sibling you better protect your back parts from being probed, and to be fair, you could also find yourself getting a probe from someone at work, high school or college (some just don't mentally grow up past the age of 6)! This weird oddity is not just Japan's alone, the Korean's and those in Philippians seem to enjoy a good game of jab the butthole. Butt, seriously now, this game is so revered in Japan, they had to make themselves a statue of the good ol' time they've had jabbing strangers, friends, family and even teachers in the bung-hole.
The Etiquette of Kancho
One thing to note though is that yes these cultures are different, and for the most part kancho in Japan is tolerated especially those 6 and younger. So if you're planning on being a Japanese English Teacher for wee ones, then you could expect a nice bit of backlash from your students at one point in time when they become a ragging pack of piranha. The Japanese give these kids HUGE room to be bastards, so the best way to handle them is to never mentally break in from of them, be able to take a joke and even be able to deal some back to them (minus the kancho, c'mon now, that's a bit creepy). If you can do that, it's said Japanese children will respect you for that and give you less of a hard time. But for those that are not equipped with a sense of humor may end up a broken mess on the floor during the first day of school.
But to further the rules, well, there really are no rules, except, avoid being a pervert at the wrong time, like:
Funerals, Weddings (proper timing), School Entrance Ceremonies, Trains (This is known as chikan if done wrong =P), On the Frail Elderly.. and you know I'm sure you just have to use your best judgement here, if it seems it might be frowned upon to sneak attack a persons butthole at a certain time, try to find another more suitable time to do so…
#themoreyouknow
–NihonScope