Watch xxxHolic for Free on Nihon Scope (SUBBED)
The anime series xxxHolic and its sequels are based on Clamp's manga series with the same name and were developed by Production I.G. It revolves around Kimihiro Watanuki, a high-school student disturbed by his ability to see the supernatural. He meets Yūko Ichihara, a powerful witch, who owns a wish-granting shop. Watanuki requests to have his ability to see spirits removed and as payment, Yūko hires him to work in the shop, resulting in his encounter with various supernatural adventures.
When I first stumbled upon this Anime I was pulled in by so many different qualities of the story. Between the real life examples of mystical rules of life to the humor, I quickly burned through a couple episodes everyday until sadly there was no more. BUT, there is another xxxholic I just couldn't get into it. This version is my favorite and I'm sticking with it.
---
Enjoy xxxHolic,
You can see more Anime here.
[one_half_first]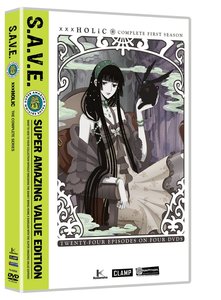 [/one_half_first]
[one_half_last]
[/one_half_last]
-Nihon Scope
| | | |
| --- | --- | --- |
| Episode 1 | Episode 2 | Episode 3 |
| Episode 4 | Episode 5 | Episode 6 |
| Episode 7 | Episode 8 | Episode 9 |
| Episode 10 | Episode 11 | Episode 12 |
| Episode 13 | Episode 14 | Episode 15 |
| Episode 16 | Episode 17 | Episode 18 |
| Episode 19 | Episode 20 | Episode 21 |
| Episode 22 | Episode 23 | Episode 24 |